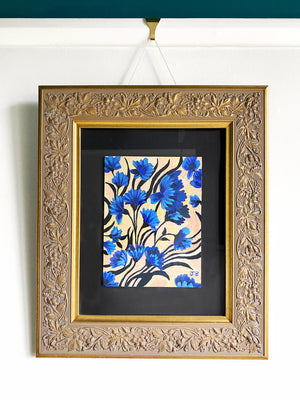 Jojo Bedell
"The Search" Original Painting on Linen Panel Board - by Jojo Bedell
Sale price Price $219.00 Regular price
Original Painting of "The Search" by Jojo Bedell comprised of acrylic on linen panel board.
The painting image covers the entire surface of the linen panel board and is signed on the front and the back of the frame by the artist.
Artwork comes supplied framed in a beautiful heavyweight, distressed gold reclaimed frame and is ready to hang. 
Please note due to its age the frame has some scratch marks i.e. very minor wear and tear but it is does not detract from the overall piece as as it is in good condition.
Dimensions:  42.5cm X 50cm
Double click the main image to see more photos and close up detail.
THE ARTWORK WILL BE DISPATCHED WITHIN 5 WORKING DAYS.
International shipping available however please contact Jasmine@Oneoffto25.com  to receive a quote before placing an order.