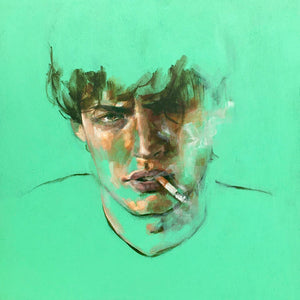 Flo Lee & Co
"39/100" - Limited Edition Fine Art Print by Flo Lee & Co
Sale price Price $50.00 Regular price
This edgy and incredible looking artwork is available as a Limited Edition Fine Art Print of 25 and it is  printed onto High Quality Archival paper by Flo Lee & Co.  
This is a rare piece as Flo infrequently paints men so grab yourself a limited edition copy before they go because when they are sold they will not be reproduced.
The print comes unframed, but we recommend a plain white or black frame to compliment it. Click on the main image to see a framed shot.
Dimensions: Available in A4 & A3. Please select the appropriate dimension from the drop down menu.
The artwork will have a white border. It is square so will fill as much of the space as possible.
This print usually ships within 3 - 5 working days.
Free UK shipping.
International Shipping Available however please contact Jasmine@Oneoffto25.com to receive a quote before placing the order.