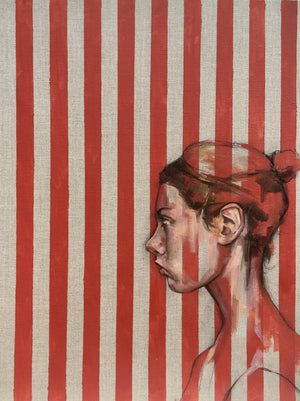 SOLD
"Circus Act" Contemporary Portrait Painting - by Flo Lee & Co
Sale price Price $580.00 Regular price
"Circus Act" Contemporary Portrait Painting - by Flo Lee & Co
Original Acrylic and Charcoal painting on unbleached fine linen mounted on board. 

This piece of artwork celebrates Flo's ability to balance the refined with the raw. It celebrates one of her favourite themes as well as her love of painting on stripes. The painting is not so obviously circus themed, but you can just imagine the figure waiting behind the curtain for the call for their performance.
The Artwork is hand signed by the Artist.
Dimensions: 46 cm wide x 62 cm high

The artwork will be dispatched by a tracked postal delivery service within 5 days.
International shipping available however please contact Jasmine@Oneoffto25 for a quote before placing the order.