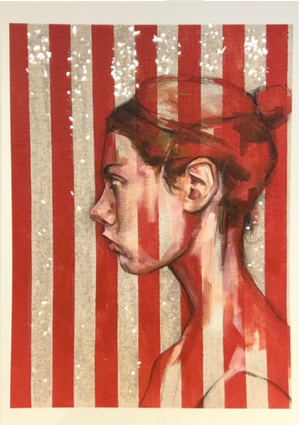 Flo Lee & Co
"Circus Act" - Hand Embellished Limited Edition Print of 10 by Flo Lee & Co
Sale price Price $65.00 Regular price
We are super thrilled to bring you this incredibly striking limited edition hand embellished print called "Circus Act" by Flo Lee to the Oneoffto25 website. 

Only 10 prints available in A4 and A3 and once they're gone there gone and won't be repeated so snap up one of these beauties before they sell out.
This stunning artwork will beguile for years to come. Flo has lovingly embellished this beautiful print thereby making it a unique piece of art. 
The artwork has been numbered and signed on the front by Flo. 
The print comes unframed, but we recommend a plain white or black frame to compliment it.

Dimensions: Available in size A4 & A3 please use the drop down menu to select the appropriate size.
This print is in stock but due to its hand finished nature prints will ship within 3 - 5 working days.
International Shipping Available however please contact Jasmine@Oneoffto25.com beforehand to receive a quote.