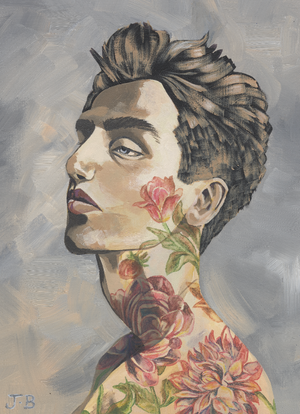 Jojo Bedell
"It's in Our Nature #1" Original Acrylic and and Watercolor Pencil Painting on Linen Panel Board - by Jojo Bedell
Sale price Price $274.00 Regular price
Gorgeous Original Painting comprised of Acrylic Paint and Watercolor Pencil on Linen Panel Board entitled "It's in Our Nature #1" by Jojo Bedell.
This beautiful painting is painted to the edge of the painting and is signed on the front and back by the artist.
It is not necessary to frame this artwork as it will look fabulous propped up on any surface. Or a picture hook can be adhered to the back of the painting so that it can hung up on the wall. 
Dimensions: 30 x 40 x 0.35cm
THE ARTWORK WILL BE DISPATCHED WITHIN 5 WORKING DAYS.
The artwork will be sent by a tracked postal delivery service.
International shipping available however please contact Jasmine@Oneoffto25.com  to receive a quote before placing an order.