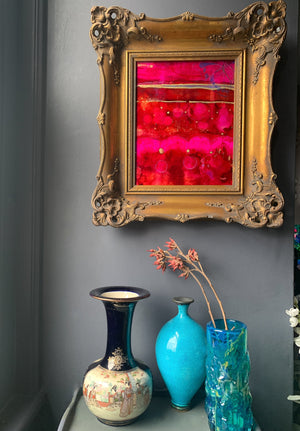 SOLD
"Joie de Vivre" Framed Original Multi Media Painting
Sale price Price $219.00 Regular price
"Joie de Vivre" is a contemporary Original One-off Ink Painting on board comprised of permanent artist inks, acrylic paint and pencil. 
It's a standout painting that will inject vibrant rich colours into any home interior. It will make the perfect gift for a loved one or for yourself.

The painting has been framed in a heavy vintage gold frame intended to juxtapose the composition between old and new.
Please note due to the age of the the frame there is some wear and tear, along with hairline cracks on the front of the frame but this it to embraced as it is the antithesis to mass production and does not detract from the overall look of the piece. 
The artwork has been sealed and protected with an acid free UV varnish.
Framed and ready to hang on the wall.
Signed and dated on the rear of the artwork and the back of the frame by Jasmine Rosten-Edwards, artist name R Edwards.
Dimensions: Framed artwork at the front is 41 x 47cm at the widest points. The frame dimensions at the back are 39 x 45cm.
Please double click the main photograph to see more detailed and close up shots.  
Ships within 3 working days and will be delivered by courier service.
International Shipping Available please email Jasmine@Oneoffto25.com for a quote before placing the order.