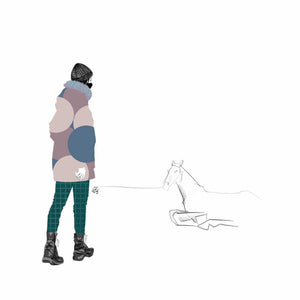 Sara Hurley
mdcxviii - Limited Edition Giclee Print by Sara Hurley.
Sale price Price $50.00 Regular price
Limited edition print of 10 that beautifully captures Sara Hurley's signature restrained colour palette.
This image embodies the classic infinity window i.e. we as the viewer are looking at what Sara has observed whilst viewing an art gallery viewer.
This piece also provides a lovely artistic commentary on our contemporary society and ever changing world and will look look absolutely fabulous paired with mdlxxxii by Sara.
Digital drawing giclee printed on Hahnemuhle photo rag matt paper with a signed Certificate of Authenticity adhered to the rear. 
The print is supplied unframed but it would suit a plain black or white frame.
Dimensions: Available in A4, A3, A2 and A1 please use the drop down menu to make your selection.
Ships within 5 working days. All purchases are delivered by postal or courier service.
International Shipping Available please email Jasmine@Oneoffto25.com for more information.