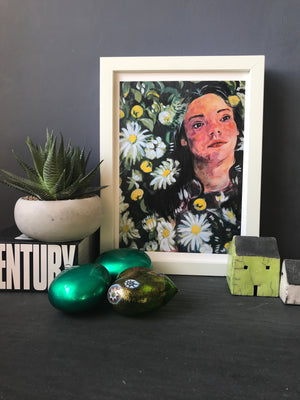 SOLD
"My mind wanders when she is with you" - A4 Hand Embellished Limited Edition Print by Janet Stocker
Sale price Price $38.00 Regular price
We at Oneoffto25 are super excited to bring to you this one-off hand embellished print by Janet Stocker. This gorgeous green hued image depicts the intriguing gaze of a young woman deep in thought whilst surrounded by fresh flowers which convey nature and life.
Janet has hand painted the flowers on this beautiful print and the image has been varnished twice so it looks like an original piece of art. The artwork has been titled and signed on the reverse. 
Future artworks featuring this image will be limited to a total of three so grab one of these before they go.
Janet's artworks will easily fit into any contemporary home setting and inject an uplifting vitality.
The print comes unframed, but we recommend a plain white frame to compliment it as per the main picture. Please click on the main image to scroll through for more pictures.
Dimensions: A4
This image in in stock but due to the hand finished nature of the artwork the other ones will ship within 5 working days.
All purchases are delivered by  courier service.
International Shipping Available.
Please note this print will be wrapped in tissue paper and dispatched in a round tube plus an outer triangle tube to protect it.