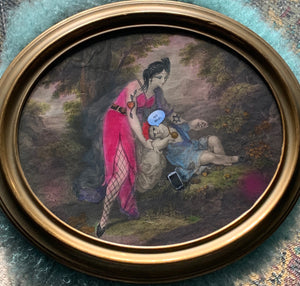 SOLD
"No WiFi" Upcycled Mixed Media Artwork
Sale price Price $0.00 Regular price
Mixed media cool upcycle of a classical pastoral scene featuring mother and child that has been given a modern twist.
The central characters have been updated by a permanent marker hand and the artwork has been embellished with spray paint, decoupage, Windsor and Newton inks, water colour and pencil. 

This humorous one off piece centres around a young person who has discarded their phone and having a strop because there is no WiFi access in the country setting they find themselves in and the maternal figure is trying to mollify them. 
Double click the main image to see more shots and details that has been added to this unique piece.
The artwork is supplied in an aged gold frame ready to hang and the artwork is signed on the rear.
Dimensions: 39.5 x 34 cm
Usually ships within 3 working day by courier service.
International Shipping Available please email Jasmine@Oneoffto25.com for a quote before placing the order.