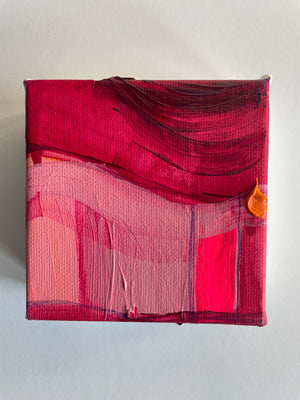 R Edwards
'Perfect / Imperfect no.9' Mini Original Acrylic Painting
Sale price Price $82.00 Regular price
'Perfect / Imperfect no. 9' is a brightly hued Contemporary Original one-off acrylic painting on canvas. 
The title is an ode to the fact that as humans we are seemingly in constant pursuit of perfection in all aspects of our lives yet there is beauty to be found in accepting imperfection in all its guises. 
This painting is part of the small and mighty Perfect / Imperfect collection whereby each painting is intended to complement one another and spark joy. They will look great grouped together in pairs or more. Equally, each painting will pack a punch if displayed alone. 
This painting will make the perfect gift for a loved one or for yourself.
Signed on the rear of the artwork by Jasmine Rosten-Edwards, artist name R Edwards.
Dimensions: 10cm square.
Please double click the main photograph to see more detailed and close up shots.  
Ships within 3 working days and will be delivered by a signed for postal service.
International Shipping Available please email Jasmine@Oneoffto25.com for a quote before placing the order.