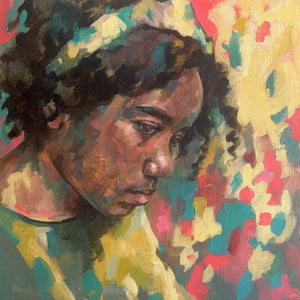 Flo Lee & Co
"Sensibility" Original Contemporary Portrait Painting - by Flo Lee & Co
Sale price Price $560.00 Regular price
"Sensibility" is a stunning original contemporary painting comprised of acrylic paint and charcoal sticks on linen board by Flo Lee.
This painting is amongst the best work that Flo has ever produced, her work is highly collectible and features in many international homes and private collections.  
The painting is part of a series that features two other sisters and they will look fabulous together as a set.
Hand signed by the artist.
The painting will be protected with a satin/matte varnish mix so it will have a bit of a sheen to it.
Dimensions: 40cm square

The artwork is supplied unframed and does not require framing. It will look good propped up on any flat surface ie a contemporary take on modern portraiture including how it is displayed.
The artwork will be dispatched by a tracked postal delivery service within 5 days.
International shipping available however please contact Jasmine@Oneoffto25 for a quote before placing the order.