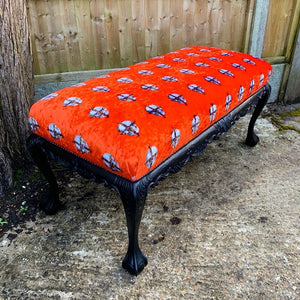 Emily Penfold
Furniture Art - Vibrant Orange Velvet Bench Stool by Emily Penfold
Sale price Price $966.00 Regular price
Inject some sumptuous glamour into your home interior with this one off vibrant orange fully restored vintage bench stool.
The stool has been upholstered in an EP designed Marbled Velvet Fabric and it has a black wood trim, it will make a stunning statement in any home interior scheme.
Double tap the main image to scroll for more pictures.

Dimensions:  H: 60cm  W: 120 cm 
Ships within 5 working days and will require a signature upon receipt.
International Shipping Available please contact Jasmine@oneoffto25.com for a quote beforehand.